Third wind turbine for Ford Dagenham's low CO2 engine plant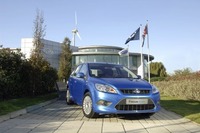 Ford will add a third wind turbine at Dagenham to power the expansion of its diesel engine manufacturing site.
This extra turbine from Ecotricity enables Ford's Dagenham Diesel Centre to remain 100 per cent wind powered following installation of a new 1.4/1.6-litre Duratorq TDCi engine line.
Ford offers 28 Fiesta, Fusion and Focus models powered by these clean, ultra-frugal diesel engines which will enjoy London congestion charge exemption from October.
Transport for London's 100 per cent congestion charge discount for cars emitting under 120 grammes CO2 per kilometer, and Budget changes, are accelerating interest in low emission cars. Within two years all sub-130g CO2 cars will be free of vehicle excise duty (VED) for their first 12 months on the road.
As a result Ford Dagenham output is on track to top 1,000,000 engines this year to meet demand – which means Ford's lowest CO2 engines are produced using one of the greenest power sources.
Ford/Ecotricity partnership
The existing two Ecotricity wind turbines at Ford Dagenham have avoided over 6,500 tonnes of CO2 emissions a year since 2004. A third Ecotricity turbine, subject to planning approval, would have the capacity to produce 1.8 megawatts of green electricity for Ford's Dagenham Diesel Centre – the equivalent of powering 1,000 homes.
Roelant de Waard, Ford of Britain chairman and managing director, said: "Ford Dagenham is at the forefront of sustainable business – in both its manufacturing technology and its products. Low emission cars are increasingly in demand, with Ford's ECOnetic range leading on performance and production."
Dale Vince OBE, Ecotricity managing director, said: "When household names like Ford use wind energy for everyday operations, it's a powerful endorsement of wind energy's credibility. It's quite special to see demand for cleaner engines grow and we're delighted to work with Ford to increase their capacity to build more 'wind-powered diesel engines'."
Ford Focus ECOnetic
Engines from Ford's Dagenham Diesel Centre power the Ford Focus ECOnetic, which is capable of a segment-leading 65.7mpg. The ECOnetic low CO2 engines represent the latest production landmark for the site, which has recruited 500 engine specialists to lead the manufacturing facility beyond 1,000,000 units a year.
The Ford Focus ECOnetic, powered by the 1.6-litre Ford TDCi engine, boasts CO2 reduced by 15 per cent compared with the first Ford Focus diesel of 10 years ago.
The Ford Focus ECOnetic range combines improved vehicle aerodynamics and reduced friction to achieve 115g CO2/km. All new 1.6 Ford Focus TDCi models achieve 120g CO2/km.
Award-winning eco plant
Ford Dagenham is broadening its green vision which has already won a Business Commitment to the Environment award. Other environmental actions include metal filings from engine machining being squeezed dry of lubricant, shaped into briquettes and sold on to foundries supplying car parts such as brake castings.
Instead of mineral oil, diluted vegetable oil is used on site for engine machining both as a coolant and to remove waste metal, called swarf. Because metal-working fluids and waste disposal are potentially damaging to the environment, Ford recycles both coolant and swarf. As a result oil conservation at Ford Dagenham exceeds 500,000 litres per year.
Of the 2,000,000 litres of renewable coolant held on site, only a fifth is renewed every year. Coolant which has passed through the machining process is filtered for reuse, while iron and aluminium filings are separated by magnets. Because vegetable oil-based lubricants are used at reduced concentrations, coolant consumption has halved.
Green vision
Elsewhere in Essex, Ford's Dunton technical centre has also signed up for green energy. The product development HQ will cut the CO2 it produces by 65 per cent – or 36,100 tonnes – by moving to electricity from renewable sources.
And Ford is investing in environmentally sensitive manufacturing on the continent. The company has sourced renewable electricity for Fiesta/Fusion production and car engineering facilities at Ford Cologne in Germany. The green electric power is generated by three hydro-power plants in Scandinavia and provided to Ford through Cologne-based energy infrastructure service provider Rhein Energie.