Ford factory makeover gets residents guessing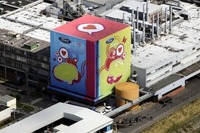 The German city of Cologne awoke to a curious sight this morning, the nearby Ford Niehl plant had been completely transformed with a bright, dazzling coat of multi-colour paintwork.
Reports of unusual activity at the Ford site have recently emerged from workers based on the opposite side of the River Rhein. This morning, however, all eyes were on the complete transformation of the site. What was yesterday's unremarkable grey industrial building is now a huge burst of red, green, pink, blue and yellow swirls.
Created to celebrate the start of production of the all-new Fiesta, the new-look plant has astonished and delighted site workers and residents alike.
Karl Anton, Niehl plant manager said: "We're sure that many of Cologne's residents will have noticed the strange, colourful metamorphosis at our Ford Fiesta production plant. We know many people have been speculating on the purpose of the eye-catching makeover, and now we're finally able to clear up the mystery. Our workers have become so smitten with the new Ford Fiesta that we have decided to re-christen the plant the 'Fiesta Love Factory' and decorate it in celebration. We hope people will fall in love with the new Fiesta as much as we have!"
The transformation of the factory marks the start of the build up to the launch of the new Fiesta in October of this year…what will emerge from the Fiesta Love Factory next?...