Aranui 3 - The freighter to paradise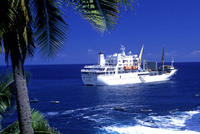 Take advantage of a special offer on an adventure-filled cruise onboard the Aranui 3 and explore French Polynesia's wild and exotic Marquesas Islands, the world's most remote archipelago.

A discount of Euros 400 per person is offered on four voyages departing January – April 2010 for bookings before 28 February. On the 31 January departure, special guest - author and film producer, Peter Crawford - will share his own experiences of travelling through the islands whilst producing a BBC series.

Often referred to as 'the freighter to paradise' the Aranui 3 is a uniquely designed cargo filled vessel complete with cruise ship comforts. Sailing from Papeete harbour on the island of Tahiti, the ship delivers vital supplies to the Marquesas while guests enjoy 14-adventure filled days exploring the lush unspoiled islands and experiencing the local culture.

While the ship loads and unloads at each destination, passengers are taken ashore onboard a fleet of whaleboats. Four-wheel drive vehicles driven by locals take guests on spectacular jeep safaris over the mountains, through mysterious jungles and into valleys dotted with sacred ritual sites and ancient stone tikis (second only in importance to Easter Island). The black sand beaches and steep volcanic peaks blanketed with thick forests are a stark contrast to the traditional French Polynesian fringed atolls.

Guests will experience firsthand how the fascinating culture and unspoilt nature of this isolated and untouched group of islands has inspired so many writers and artists over the years, from the artist Gauguin and singer/composer Jacques Brel to Herman Melville, author of Moby Dick.

A full program of lectures covering Marquesan history, culture and art is standard on the Aranui 3. However, on the 31 January 2010 departure the special guest onboard will be author and film producer Peter Crawford. In the early 90's, Peter spent three years travelling through the islands researching his book 'Nomads of the Wind' and producing a series for the BBC's Natural History Unit, retracing the dramatic story of the Polynesian people and their discovery and settlement of the islands of the Pacific.

The Marquesas Islands are situated around 900 miles northeast of Tahiti. Of the 15 islands in the archipelago, six are inhabited and only four of these have airstrips; two islands are only accessible by boat and do not even have a dock! The Aranui 3 is a lifeline to the residents of these six isolated islands delivering everything from four wheel drive cars and cement to schoolbooks and livestock. They ship back copra (dried coconut kernel) and noni, a yellowish fruit that has become the basis of a fashionable health drink marketed in the US.

The discount of Euros 400 per person applies to all new bookings made before 28 February 2010 in a standard cabin on the following departures:

30 January - 12 February 2010
20 February – 5 March 2010
13 - 26 March 2010
3 - 16 April 2010

Price:

Euros 2991.40 per person sharing a standard twin-bedded outside cabin with private facilities; the price includes Euros 400 discount, all meals with wine, land-based sightseeing excursions and taxes. Flights to/from Tahiti are not included in the price.

The vessel - Aranui 3

Purpose built in 2003 Aranui 3 is uniquely designed for its dual role as a freighter and passenger ship, carrying up to 2000 tons of cargo and 180 passengers. There are 86 fully air conditioned cabins ranging from top of the range suites with balconies to deluxe and twin-bedded cabins, with well-priced dormitory style accommodation on a lower deck. There are two comfortable lounges, a swimming pool and gym and a full program of lectures on Marquesan history, culture and art. English is widely spoken onboard.

For more information and reservations, visit aranui.com.