Ford's Focus on material recycling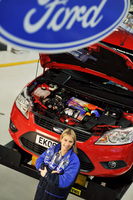 To find out what happens to discarded household carpets, old jeans or empty bottles, take a closer look at the Ford Focus.
Ford's innovative hatchback is spearheading a comprehensive European recycling campaign, which has created over 300 separate parts formed with recycled material and diverts around 20,000 tonnes away from landfill each year.
Valentina Cerato, materials engineer at Ford's Dunton Technical Centre, Essex, said: "Ford's approach is guided by its Product Sustainability Index, including sustainable material and substance management. The index covers recycled materials and the use of natural fibres, which continue to replace plastics in Ford components."
Designed for sustainability
Ford's European Product Sustainability Index (PSI) scores the environmental, economic and social impact of Ford cars – demonstrating the company's commitment to taking a leading role in addressing these issues.
Ford's PSI tracks a total of eight parameters including the vehicle's key sustainability elements:
the use of sustainable materials (recycled and renewable materials)
substance management (including allergy-tested interiors)
life cycle global warming potential (mainly carbon dioxide emissions)
life cycle air quality potential (other air emissions)
Plastic fantastic
Ford's material researchers at Dunton Technical Centre, Essex, develop components from recycled material while ensuring no compromise to quality, durability or performance.
Recycled components in the current Ford Focus include:
Heater and air conditioner housing made from 25 per cent recycled plastics
Replacement bumpers made from 20 per cent recycled bumpers
Interior carpets made from 20 per cent recycled carpet material
Battery tray made from 50 per cent mixed recycled plastics
Wheel arch liners made from up to 100 per cent recycled polypropylene
Air cleaner assembly made from 25 per cent recycled plastics
Fabric seat option made from 100 per cent recycled material
Roof lining, parcel shelf, instrument panel, insulation and sound-proofing materials include recycled textiles
Sources for this recycled material are everyday items as diverse as plastic bottles, bottle tops, computer and TV housings, compact discs, household carpets and even denim jeans. The noise insulation in all Ford vehicles is made from jeans and reclaimed car seat upholstery.
Natural solution
Ford is also stepping up research into plastics, rubber, foam, film and fabric, to develop more alternative bio-based materials that are functional, durable and cost-effective in order to decrease dependence on oil-based products. While petroleum and glass fibres are typical ingredients in automotive plastics, Ford researchers are developing all-new materials that include more natural ingredients such as soy flour, hemp and cellulose. Test results show that natural fibre-reinforced plastics can reduce weight by up to 30 per cent.
Ford material experts are also working with a biodegradable plastic called polylactic acid (PLA), derived from the sugars in corn, sugarbeet and cane. A plastic part made from PLA can biodegrade after its life cycle in just 90 to 120 days, compared with 1,000 years in a landfill for a traditional, petroleum-based plastic. Ford believes potential automotive applications for PLA include textile applications for vehicle carpeting, floor mats and upholstery and interior trim pieces that are injection moulded. More immediate possibilities include using PLA for manufacturing applications such as in protective wraps used during vehicle transit.
Allergy tested and approved
In working on the environmental impact of Ford interiors, engineers have considered protecting occupants from potentially health-threatening allergic reactions.
All materials touched by the Ford Focus driver – such as the steering wheel, seat covers and seat belts – are dermatologically tested, while high-performance air filters prevent allergic pollens from entering the cabin.
In addition to the Focus, eight other Ford models have been allergy tested: Fiesta, Fusion, Focus, C-MAX, Kuga, Mondeo, S-MAX and Galaxy. They have been independently verified by international test authority TÜV. Ford is the only manufacturer to have its cars' interiors confirmed as allergy friendly.
"Liquid wood" to come
Ford joined a three-year research project last year into a new wood/plastic compound known as "liquid wood". Early findings show excellent recycling potential as the material can be reprocessed up to five times, with an overall near-neutral CO2 balance.
Renewable resources have a major role in Ford's environmental strategy, which aims to increase further the portion of natural materials in new models. Currently almost 300 parts are derived from sources such as from cotton, wood, flax, hemp, jute fibre and natural rubber.
Sustainability report
For 10 years, Ford Motor Company has published an annual review of its continual efforts to make the company more sustainable environmentally, socially and economically. On recycling the report (at ford.com/microsites/sustainability-report-2008-2009) states:
All of Ford's European vehicles use recycled polymers (plastics, man-made fibres etc) and renewable parts, where these contribute to a sustainable material supply and provide a more sustainable solution.
Recycled materials are selected whenever technically and economically feasible. The recycled materials are evaluated in-house versus comparable virgin grades, guaranteeing that appropriate mechanical properties and the same level of component performance would be obtained with virgin materials.
Ford sets targets for the use of non-metallic recycled content for each of its vehicles, with the use of recycled content increased year by year, model by model.