Celebrate Australia Day with a visit down under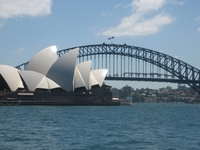 This Tuesday, 26th January, is Australia Day, a national event in Oz that celebrates what is great about the country aside from kangaroo's, BBQs and neighbourly soap operas! It is a day that recognises cultural diversity, independence and those who have emigrated from over 150 countries around the world to call Australia their home.

Known for its vast landscapes, beautiful beaches and colourful wildlife, Australia attracts 5.5million tourists each year with over 500,000 from the UK alone. It's no surprise many want to visit especially during our winter months when Australia has their summer and temperatures can reach 40C!

Being a 23-hour flight away and 11 hours ahead you'll need a couple of days to adjust before heading out to explore. There is so much to see from the buzzing city life of Sydney to the natural wonders of Ayers Rock and the Great Barrier Reef and the interesting aboriginal way of life.

Contiki Holidays originated in Australia around 25-years ago and have since become one of the most renowned operators of organized tours for the 18 – 35's. In Australia alone there are over 40 difference excursion and organised trips to choose from and two of their most popular are the East Coast Odyssey and the Outback Adventure:

Aussie Explorer Tour

The 'Aussie Explorer Tour' lasts for 24 days and takes in the East Coast of Australia visiting native people, historic places and modern architecture. Places you'll visit include Sydney, Byron Bay, Gold Coast, Fraser Island, Cairns and Brisbane. You'll stay in hotels, bush camps, a yacht, an eco lodge and a surf village.

During the experience you'll take a hot air balloon ride over Cairns, climb Sydney Harbour Bridge and go whale watching on Fraser Island. This tour is priced from £1,900 per person.

Territory & Outback Tour

Ideal for shorter trips, the 11 day 'Territory & Outback Tour' really allows you to discover the real 'Down Under.' There is a chance to sleep under the stars in a bush camp and try delicacies such as crocodile and emu. Other highlights include Quad Biking in Kings Creek Station, an 'Aboriginal Bushtucker Day Tour' that introduces the Aboriginal lifestyle and a Harley Davidson motorcycle ride around the base of Uluru. This tour is great value for money from just £669 per person.

What makes Contiki so popular is the knowledge the tour managers can share. Many are Australian themselves and train for months so they are full of knowledge, from the opening hours of churches to the best late night bars. They have the experience to go to Tamarama, Coogee or Bronte beach when the famous Bondi is packed and will make sure the group has a great time.

So celebrate Australia Day this year by planning your own visit down under. For further information on Contiki visit contiki.co.uk.