Low-cost luxury travel in Thailand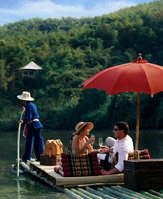 Experience luxury Thailand and see the best of what this country has to offer. Where else but Thailand can you gently cruise on a converted rice barge, roar upriver in a long-tailed boat or take a white-knuckle ride on a bamboo raft?

Travellers are also offered the opportunity to stay in a jungle tree house as guests of local hill tribe villagers, or reside on raft-houses floating on the river. Hike the trails leading deep into the rainforest past cooling waterfalls, and enjoy the simple beauty of the translucent sea lapping onto the endless white, soft sandy beaches.

Luxury Thailand Travel company combines the beauty of the Golden Triangle's temples and remote hill tribes north of Chiang Mai; the beaches of Pattaya and pristine Krabi; and ultimately the dynamic capital of Bangkok with its high-rise buildings juxtaposed against the exquisite beauty of the gleaming Grand Palace.

In every town and city, bargain-hunters will thrive in the street markets crammed with all manner of goods, where good-natured bartering is the norm.

Venture into Bangkok's busy markets, glimpse the lives of working elephants and discover tranquil villages along the Mekong River.

This new tour offering compliments Luxury Travel's existing range of hand-picked hotels and resorts within Indochina and Asia.

For tour information and booking, visit luxurythailandtravel.com.