The ultimate seclusion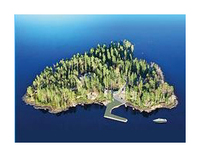 Escaping to your very own private island is usually something reserved for celebrities and the über rich, however this is not necessarily the case in Finland.

Even though Finland has an abundance of small islands, Aateli is a unique anomaly. The island can be found in the middle of Nuasjärvi, a serene lake in the region of Sotkamo, central Finland.

The nearest town is Vuokatti, a popular international holiday resort boasting a diverse number of year round activities such as skiing, archery, walking and dog sledding. Guests can sail to the island and moor themselves to the easily accessible dock; alternatively the island has two of its own water going vessels, Princess Vilma and General Jermu which depart from Vuokatti. A heliport on the island means guests are assured of total privacy and of course flexibility.

Villa Fregetti is the accommodation on the island, surrounded by towering pine trees this contemporary Finnish bolt hole makes for an ultra cosy yet stylish retreat. The open plan layout can comfortably accommodate up to six people in the three double bedrooms. A large downstairs living room means there is plenty of space to relax together with family, friends or partner in front of a roaring fire. Other facilities include a whirlpool, home entertainment system, glazed terrace (heated) and of course a traditional Finnish sauna. The sauna is located outside the main villa slightly closer to the dock; meaning less distance between to the lake for those traditional after sauna dips!!

The island itself is just the beginning; the experience which comes with staying on the island is what makes Aateli unforgettable. For those looking for an upmarket Robinson Crusoe experience this is the ultimate, visitors can be as active or as relaxed as they please. The island is perfect for exploring with the forest home to many mushrooms and berries perfect for foraging adventures. The refreshing water is ideal for boating, kayaking, fishing and of course swimming and those staying over summer will benefit from the extended daylight hours which lend this part of the world a very special feel.

Those thinking that this kind of escapism does not come without a seriously inflated price tag will be pleasantly surprised, the cost of renting Villa Fregetti and Aateli island for one night on a weekday is €1295, for the weekend (three nights) €1475 and for seven nights €8950. For more information on the region, visit vuokatinaateli.fi, for more information on private hire of Aateli, visit vuokatinaateli.fi.

For further information on Finland, log on to visitfinland.com/uk.