The Mekong experience: 6 countries, one river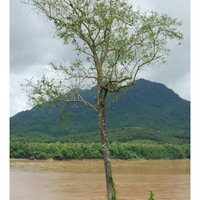 Journeys Within, a boutique Southeast Asia tour company, recently announced an exciting itinerary for 2010 that gives travellers the chance to explore the countries of the Mekong River for a truly immersive cultural experience.

The Mekong River is the lifeblood of Southeast Asia, and on this trip guests will be escorted down this amazing river from Yunnan Province, China to the Mekong Delta in Vietnam, visiting the six countries that lie along it's banks.

"Exciting and enriching, I'll never forget these 28 days," said Joan Cerlenko, a past participant. "Even if you think you've seen Southeast Asia you haven't experienced it until you've traveled down the Mekong River with Journeys Within."

Along the way travellers visit highlights of China, Burma, Thailand, Laos, Cambodia, and Vietnam as well as see daily life as it happens on the river.

With Western tour leaders as well as English speaking local guides, no question will go unanswered, and the beauty, history, and activities of the people and places will be brought to life. From traditional villages to bustling capitals, from ancient temples to modern palaces, travellers pass through or along the borders of six countries on everything from a 34-foot cruise boat to a local long tail boat.

The only tour of its kind, the Journeys Within Mekong Experience is the perfect adventure for the active baby boomer generation to get out and explore the culture, tradition, and history of this amazing region, all with the comfort and safety of experienced tour leaders. For the first time, on the 2010 Mekong Experience, Journeys Within Tour Company will donate a portion of each traveller's fare to different regional projects, and guests will visit these communities to see the results of their donations as part of the tour.

Trip details:
Dates: October 28, 2010 through November 26, 2010
Cost: $6995 per person sharing a double/twin room and single supplement $750 (not including airfare to Bangkok)
Maximum participants: 12

For more information about Journeys Within and to learn about their other exciting tours for 2010, visit journeys-within.com.