Secure your retirement at Laburnum Court, Uxbridge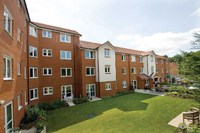 Remember the old saying 'everyone needs good neighbours'? Well at McCarthy & Stone's Laburnum Court development in Uxbridge, you couldn't ask for a better bunch of neighbours – and if you get into trouble, they'll be there in a flash.

Yes, residents at Laburnum Court not only enjoy the neighbourly company of other like-minded retirees, they also share their street with the boys in blue who are just across the road at the local police station!

And what's more, all apartments at the development have been designed especially for the over-60s and include a number of security features, as Sharon Callcut, marketing manager for McCarthy & Stone South East, explains: "At McCarthy & Stone, we pride ourselves on building secure homes and communities for all our residents and offer a number of security features including security entry systems, double glazing, key operated window locks, a house manager and a 24-hour Careline service.

"Buying a new property provides that extra level of confidence and is also reflected in lower insurance premiums. With the additional benefits of owning a new home, such as decreased fuel bills and DIY costs, coupled with a range of incentives and schemes currently available, you can make some considerable reductions on your outgoings.

"And, thanks to our wonderful neighbours at Laburnum Court, we really couldn't ask for a more secure environment for our purchasers! It really is the ideal place for anyone looking for security in later life. If you're keen to find out more about safeguarding your property, or about the lifestyle you could be enjoying, why not come and see us?"

If you're looking for ways to improve your home security, McCarthy & Stone has prepared a simple checklist:

- Lock windows and keep the keys out of sight in a safe place.

- Ensure external doors are secure and consider getting a chain or door viewer fitted.

- Keep your house and car keys safe and away from doors and windows and never leave a spare key in a convenient hiding place as it will be easily found.

- High-efficiency, low energy lighting can put off thieves, particularly dusk to dawn or movement activated models.

- Fit a burglar alarm, but make sure it is installed properly and works.

- Keep your garage and garden shed locked with proper security locks, and keep any tools secure and out of sight.

- Install strong fencing or gates and consider gravel as they act as a deterrent to thieves.

- Trim back any plants or hedges that a burglar could hide behind.

- Make sure you have up-to-date insurance.

- Don't leave your curtains closed during the daytime.

- Use timer switches to turn on lights, radios and other appliances when you're out or away on holiday

- Consider joining a Neighbourhood Watch Scheme at neighbourhoodwatch.uk.com.

Laburnum Court is a development of 45 one and two bedroom retirement apartments designed exclusively for the over 60s. Only three apartments are left at the development so anyone considering moving should hurry to make sure they don't miss out!

Each apartment is private and self-contained and includes a number of thoughtful features including electrical sockets at a raised height to reduce bending, illuminated light switches, easy grip lever taps in the bathroom and kitchen and energy efficient heating.

Residents at Laburnum Court can also enjoy beautiful surroundings, socialise and relax in the communal lounge and invite family and friends to stay in the development's guest suite.

Prices start from £208,950. To find out more, visit the development, located on Harefield Road, Tuesday to Saturday from 10.30am to 5.00pm, or log on to mccarthyandstone.co.uk.