Funky Ford Ka records half a million sales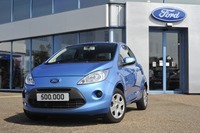 More than half a million UK customers have bought Ford Ka models thanks to its iconic design, low running costs and fun-to-drive personality.

The original Ford Ka was launched in the UK in 1996. Marketing director, Ford of Britain, Mark Simpson, said: "There were eight competitors in the Ka's market segment in 1996 – now there are 26 rivals. Offering low ownership costs and cheeky distinctive styling, the Ka has maintained its strong appeal over the years and remains at the top of its segment."

The new Ford Ka went on sale at the turn of this year and it is now leading its market segment with 14 per cent share.

New Ford Ka facts include:

Driven by 'Bond girl' Olga Kurylenko in the movie "Quantum of Solace".
Best selling model is Ka Zetec.
Best selling Ka colour is black, followed by Dive (blue).
More than 11,000 new Ka models have been sold since its launch in January this year.
90 per cent of sales are to private customers.
New diesel engine is taking around four per cent of all orders.