Smart all-wheel drive helps Ford Kuga scale sales charts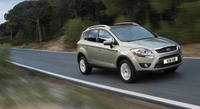 Britain's best selling compact 4x4 boasts clever all-wheel drive technology combining outstanding handling and traction with excellent fuel economy.

The Ford Kuga crossover, which topped last month's small 4x4 segment, comes with a highly effective intelligent all-wheel drive (AWD) system – resulting in excellent dynamic and environmental credentials.

In normal road driving, the Kuga saves fuel by sending power through the front wheels only. When conditions demand more grip – such as on icy roads, off road or when towing – the AWD system automatically spreads torque between all four wheels.

Jürgen Pützschler, Ford vehicle dynamics supervisor, said: "The Kuga's intelligent AWD system splits the drive only when it's required, sharing the torque between front and rear wheels on demand. The result is extremely competitive fuel consumption, coupled with remarkable traction when required."

Ford Kuga's AWD works automatically, with no input required from the driver. Sensors monitor key vehicle data – such as speed, acceleration, braking or cornering – and a control unit distributes the torque for optimum handling and grip.

The heart of the system is an electronically controlled Haldex clutch, mounted in front of the rear axle. This clutch is activated by the control unit, and varies the amount of torque going to the rear wheels, from zero to an equal front/rear split.

Intelligent AWD helps the Kuga challenge the view that all 4x4s have poor fuel economy. The 2.0-litre TDCi model delivering 136PS achieves an impressive 44.1mpg on the European combined cycle, with CO2 emissions of just 169g/km.