Join the celebrations at Ayana Resort and Spa Bali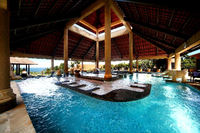 It's time to pop the Champagne at Ayana Resort and Spa Bali, as the property approaches the first anniversary of its rebranding on 1 April and celebrates its latest award as the world's best spa hotel.

To mark the occasion, the resort has launched a 1st Anniversary Package from just US$239 per night. Available for stays between 1 March and 15 June, the promotion allows guests to experience new features including the Rock Bar and the renovated Padi restaurant, and original highlights such as the Aquatonic Seawater Therapy Pool. The package also includes a signature Ayana gift for every guest upon check-in.

"The 1st Anniversary promotion reflects the celebratory atmosphere at Ayana as we approach this landmark occasion," said General Manager Charles de Foucault. "We wanted to share our joy and appreciation with our guests, whose support just saw us awarded the Number 1 Spa in the World in the 2010 Conde Nast Readers' Spa Awards, and the World's Leading Luxury Resort in the 2009 World Travel Awards.

"These accolades don't only reflect the upgrade in our facilities, but also the highest level of service from our staff, whose warm hospitality and friendly nature makes Ayana a home away from home for our guests. We hope they are able to take advantage of the 1st Anniversary package, so we can welcome them 'home' again soon."

Formerly The Ritz-Carlton Bali, Ayana rebranded on 1 April 2009 after a management change initiated by the owner, who's invested millions of dollars to strengthen the property's position as Southeast Asia's premier destination resort. Recent enhancements include the new Rock Bar, located on natural rocks abutting the ocean, and the renovation of Padi and Damar Terrace restaurants and Ayana Ballroom.

The 77-hectare property retained the vast majority of its 950 staff and selected West Paces Hotel Group led by Horst Schulze, former president and founder of The Ritz-Carlton Hotel Company, to provide management expertise. General Manager Charles de Foucault brings more than 30 years' experience, including 17 with Ritz-Carlton hotels.

The Conde Nast and World Travel Award accolades follow several other awards since Ayana's rebranding, all based on independent surveys of travellers. It was the only hotel in Indonesia ranked amongst Asia's Top 15 Resorts – and the World's Top 100 – in Travel + Leisure's 2009 survey; was voted Bali's number one hotel by NOW! Bali readers; voted Bali's number two resort in the 2010 Destinasian Readers' Survey; and voted Asia's number three Spa Resort by SmartTravelAsia. readers.

For more information and bookings, visit ayanaresort.com.