Name your deposit, name your term at Turkey's Horizon Sky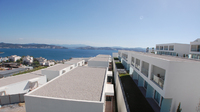 This bold statement comes from the developers of Turkey's most sophisticated resort – Horizon Sky. The customer can name their deposit, name their preferred term (from five to ten years) and Horizon Sky will adapt a plan to suit. One even borrows a tactic from the car industry in the shape of a 'balloon payment' – is this a glimpse into the future for overseas property?
Daniel Dias for developer Signature International comments, "We're conscious of the challenges posed by the current financial climate and try to eliminate any worries clients may have over buying at Horizon Sky. Payment terms tend to emerge as a ongoing concern so we've decided to throw the ball back in the buyers' court and ask them to tell us how they want to pay. Some are cash-rich and want to pay a large upfront deposit, others prefer to spread the load as thinly as possible. The 'balloon payment' will appeal to those who envisage selling or re-financing at the end of the term. In every individual case, we should have it covered."
Horizon Sky's non-status payment plans are particularly interesting as they demonstrate the developer's unwavering commitment to the Bodrum resort as it's their risk, not bank risk. Signature International is solvent and willing to stand by Horizon Sky for the long-term – through construction phases and beyond. If a buyer fails to keep up the monthly installments then they risk losing their property, but the developer has every confidence that their quality product is a viable long-term investment so are happy for the property to act as security.
At Horizon Sky there are an infinite number of plans available dependent on the deposit paid. Interest rates vary between 0% for the five year plan through to 4.9% for the ten year plan, both available with a deposit from zero upwards. Clients shouldn't baulk at the 4.9% as the alternative, arranging a mortgage in Turkey, is both complicated and expensive with interest rates currently higher than 7% if the loan is fixed in sterling. Similarly, flick through any newspaper Money section and you'll see that even the best first-time-buyer product in the UK will not be without deposit (max. 95% LTV) and certainly not carry an interest rate lower than 5%.
Keys in hand, for the most affordable Phase Three apartment of £89,891 (a two bedroom duplex apartment with a generous 87m² internal space) monthly payments are sub £1,500 GBP for a zero deposit zero interest five-year term. A £20,000 GBP deposit would bring that down to a little over £600 GBP per month based on a 45% final balloon payment. The choice really, is yours.
For more information, visit signatureinternational.co.uk.
About Horizon Sky
Some 35 minutes from Bodrum, on the sundrenched slopes of the Bay of Güllük dipping into the Aegean Sea, Horizon Sky is an upscale community of apartments, penthouses and villas – all with private gardens or terraces. It's the first resort in the area to feature an American-style Country Clubhouse which flanks a private beach. This facility houses a rooftop restaurant, sports bar and café, fitness suite, Spa, heated indoor and two outdoor pools. Meanwhile mini golf, several tennis courts, a grocery store, 11 more swimming pools and various Mexican, water and Japanese relaxation gardens are scattered throughout the resort.
A jetty and private water-taxi are in operation to deliver residents and guests across the Bay to Güllük town, which is a swift ten-minute drive from the International Airport, whilst plans are going through the approval process for an 80-berth marina. This asset will further enhance the investment and rental potential of Horizon Sky. An on-site reception and concierge alongside a rental management office are also on hand to maximize occupancy throughout the year.

For more information, visit signatureinternational.co.uk.