Autologic selects Scania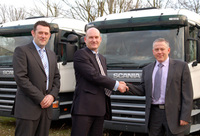 With effect from 1 March 2010, Scania (Great Britain) Limited has been appointed to manage and operate the Doncaster Vehicle Maintenance Unit (VMU) of Autologic Holdings Plc, the nationwide provider of logistics and technical services to the automotive industry.
Under the agreement Scania will be responsible for every aspect of the maintenance of approximately 280 Autologic drawbar trucks and trailers, including all required LOLER testing for lifting decks, with the single exception of tyre fleet management. Once operating at full capacity, Scania will provide 18 Technicians on rotating shifts and all administrative staff required to run the VMU on Autologic's behalf.
Scania today offers an extensive range of services, including VMU operation, under its Total Transport Solutions banner and its ability to provide an all-inclusive maintenance solution for every item of equipment in the Autologic mixed fleet of trucks and specialised car transporter trailers was key to the contract award.
"We have an extremely complex fleet maintenance requirement which places high demands on suppliers as it calls for a wide range of capabilities and skills," comments Simon Knight, Autologic's Head of Operations – Fleet and Planning. "Up until now, our maintenance has been outsourced to a number of suppliers. This, however, ties up a great deal of management time and resource, so we decided to seek a single supplier for a bumper-to-bumper solution instead. Achieving this, however, proved elusive until we entered into discussions with Scania (Great Britain), which has long provided repair and maintenance for us on a localised basis.
"Scania's ability and willingness to deliver a high-quality total transport solution backed by a commitment to maximise our uptime, which will be realised by introducing seven-day working at the Doncaster site, led to the agreement we are now implementing.
"From our point-of-view, this is an ideal situation. We are already well aware of the quality of Scania's work and believe the closer integration of our two organisations will not only reduce our administration time and optimise our repair and maintenance workflow, but also prove economically beneficial for both parties."
As a leading provider of logistics and technical services to the automotive industry, Autologic Holdings specialises in new vehicle preparation, enhancement, and distribution and used vehicle refurbishment. The company is also a leading supplier of finished vehicle logistics services to the UK automotive industry. With a fleet of over 320 car transporters, including 125 Scania prime movers, and a network of 20 centres nationwide, Autologic is responsible for over 1.2 million vehicle movements each year on behalf of vehicle manufacturers, fleet operators and dealerships.