Performance and service leads ASDA to select Scania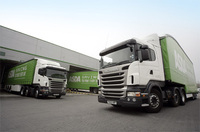 Leading supermarket retailer and long-standing Scania operator ASDA Stores Limited has introduced a further 165 Scania trucks into service in a four year contract hire deal which also sees Scania becoming responsible for the on-going maintenance of a further 200-plus trailers in addition to the 1,400 already in the care of its nationwide dealer network.
Supplied by Scania (Great Britain) Limited and its independent dealers, Keltruck Limited, TruckEast Limited and Haydock Commercial Vehicles Limited, the vehicles are all Scania R 400 LA6x2/4MNA twinsteer tractor units. Based at ASDA regional distribution centres around the country, the trucks are now operating on the retailer's intensive UK store replenishment programme.
"Although ASDA and Scania have operated in partnership for many years, we nonetheless conducted a comprehensive procurement exercise before the decision to once again re-equip with Scania was taken," comments ASDA's National Transport Manager – Central Operations, Gary Banister. "In the event, we concluded that Scania represents best value for money when all aspects of operation are taken into account. In particular, the combination of proven product performance and the ability of its network to provide maintenance for our trucks and trailers nationwide, together with a highly-competitive pricing policy, were the key factors which secured the deal for Scania."
For Scania, UK Truck Sales Director Martin Hay says: "We are naturally delighted that ASDA has elected to continue its long association with Scania and our network. This is especially so given the thorough market review, which placed our products and the service support we provide under exceptionally close scrutiny, undertaken by ASDA's Central Operations team before arriving at their decision."