The Co-operative Food Supply Chain opts for Scania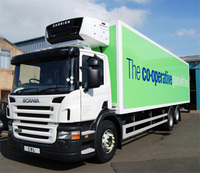 Scania has been selected to provide a total transport solution for The Co-operative Food Supply Chain (CFSC) in a major order which will see Scania provide new fleet vehicles and all associated service at CFSC's new Composite Distribution Centre for Scotland and the Isles.
Sited at Newhouse, North Lanarkshire, the Centre will be the operating base for 32 new Scania 18-tonnes gross vehicle weight rigids, while its five-bay workshop will ultimately maintain approximately 350 items of equipment and provide employment for up to 12 Scania-trained staff.

"As a long-time Scania user we appreciate the value the brand adds to our business," comments CFSC's Group Transport Manager, Ken Thompson. "Durability, reliability, driver-acceptance, image and low whole-life costs are the hallmarks of the Scania product, while in terms of aftermarket support we know we can rely upon excellent service 24/7.

"One of the reasons we have appointed Scania to operate the Newhouse vehicle maintenance unit is that should we require to extend the working life of the vehicles in our fleet, we know Scania can help us achieve that. Experience tells us we can also expect excellent first time MOT pass rates, and Scania's ability to maintain all ancillary equipment such as fridges and tail-lifts means all services are available to us from a single supplier, which simplifies matters and reduces our administrative workload considerably."

With deliveries of the new rigids scheduled to commence in March, the 32 18-tonners are 230 horsepower Scania P 230 DB4x2MNA models with dual-compartment bodies for composite deliveries of chilled, frozen and ambient products. Eight of the bodies are being supplied by Solomon, with 24 supplied by Gray and Adams. Ratcliff heavy duty tail-lifts and Carrier refrigeration units are fitted throughout the fleet.

In terms of items of equipment to be maintained at Newhouse, Scania will be responsible for a total of 60 rigid vehicles and 92 tractor units. In addition to the vehicles themselves, the rigids are equipped with tail-lifts and refrigeration units, all of which are included in the agreement. The tractor units haul a total of 190 trailers, of which 48 are ambient with the remainder being either double-deck or multi-compartment refrigerated trailers. All trailers and the equipment fitted to them are included within the agreement.