Three new locations for Scania Truck Rental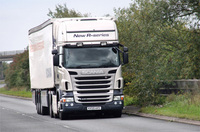 Scania Truck Rental has expanded its operations with the opening of three new rental locations.
A centre at Heathrow, situated on the premises of Scania (Great Britain) Limited, will now serve west London and the surrounding areas, while sites at the Larne and Omagh premises of Scania dealer Road Trucks Limited will serve rental customers in Northern Ireland.
"These new locations are being added to our existing 13-strong network and reflect the growth and popularity of our rental business," comments Steve Martin, General Manager – Scania Truck Rental. "Demand for premium quality long- and short-term rental vehicles is currently running at an extremely high level and we have every confidence that this will continue. Therefore, in addition to spreading our reach, we are also increasing our fleet strength by 15 percent to meet our customers' needs."
The Scania Truck Rental fleet comprises both tractor units and rigids and offers a wide choice of specifications. G- and R-series tractor units, including 4x2s and 6x2/4 twin-steers, are available as are Petroleum Regulations/ ADR models and Highline- and Topline-cabbed vehicles. In addition to box bodies and curtainsiders, the Scania Truck Rental P-cab 18- and 26-tonnes gvw rigid fleet also includes a selection of dual-compartment, refrigerated trucks.