TW Services recycles with Scania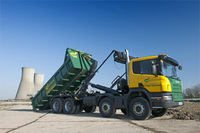 Sandwich, Kent-based waste management and recycling specialist TW Services Limited has added a further five Scania vehicles to its fleet. Supplied by Scania (Great Britain) Limited's Purfleet branch, the order comprises two skiploaders, two hookloaders and a tipper with grab.
The two skiploaders are both 18-tonne gross vehicle weight Scania P 230 DB4x2HMZ chassis with day cabs with Multilift skiploader equipment, while the hookloaders and the tipper are plated at 32-tonnes gross vehicle weight and based on Scania P 400 CB8x4MHZs with day cabs. Multilift has supplied the hookloader equipment, Thompsons the tipper body and Epsilon the tipper's grab.
"Reliability and low running costs are the two primary reasons behind our decision to once again purchase Scania," comments TW Services Limited Managing Director Spencer Ray. "Local service cover is also important to us as we provide a Kent-wide service to a wide range of industrial, commercial and domestic customers, all of whom rely up us to meet their waste management and recycling needs in a dependable and timely manner."
As one of the South East's leading waste management and recycling operators, TW Services Limited handles approaching 400,000 tonnes of waste annually. The company specialises in serving the construction industry, and its policy of continuously investing in and upgrading its facilities means last year it was capable of recycling 94 percent of all the construction and demolition industry waste it collected.