Dirty Dancing stars rise to the challenge for Sport Relief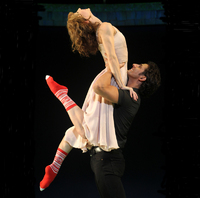 The cast of the hit West End musical Dirty Dancing – the Classic Story On Stage are having the time of their lives supporting Sport Relief and trying out the Sport Relief Socks.

Stars of the show, Martin Harvey and Hannah Vassallo who play Johnny Castle and Frances 'Baby' Houseman today recreated one of the show's most iconic lifts wearing the Sport Relief Socks, which are on sale now in Sainsbury's.

Jacobsen Entertainment, the producers of Dirty Dancing said: "We at Dirty Dancing are delighted to be supporting Sport Relief 2010. The campaign is all about having fun and getting active while raising money that will make a real difference to the lives of vulnerable people right here in London as well as the rest of the UK and overseas. We want people all over London to stretch those legs and wear their Sport Relief Socks with pride – we will be! Come on, get involved today – nobody puts Sport Relief in a corner!"

Dirty Dancing will be joining people from all over the city as they rise to the challenge at the Sainsbury's Sport Relief Mile in London on Sunday 21st March. Johnny and Baby will be making a very special appearance before sending participants off on the Dirty Dancing wave.

Whether Milers run, walk or even dance along the route, everyone can set their own challenge by choosing to do 1, 3 or 6 miles. All the money raised by the public through Sport Relief will help transform lives. To take part in the Dirty Dancing wave, enter the London Mile at sportrelief.com.

The Sport Relief Socks are available for £2 (with at least £1 going to Sport Relief) from Sainsbury's, Bannatyne's Health Clubs, or at sportrelief.com. Available in a range of sizes for adults and kids and containing Fairtrade Certified Cotton, it's not just your feet that'll thank you.