Standard & Poor's praises Turkey but slams Spain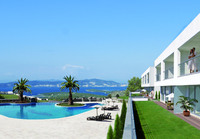 In the latest wave of analysis from credit rating agency Standard & Poor's, Spain has been kept on a negative outlook but in contrast Turkey has been bumped up the ratings. Whilst Spain's near-bankrupt construction sector is forcing unemployment upwards and GDP downwards – Turkey has maintained stability during the financial crisis and is in the throes of a well-regulated property boom.
For Turkey to receive a credit rating upgrade amongst almost 100 downgrades from Standard & Poor's is something to be proud of. Careful Government policy has steered Turkey calmly through a turbulent 2009 and decreased its debt levels. The nation can be confident of a solid financial sector, in spite of external pressures, and according to Standard & Poor's credit analyst "Turkey's banking system will be one of the strongest and least-leveraged in Eastern Europe." The agency even expects to upgrade the country again over the next one to two years should it continue to weather the global turmoil and reduce its dependence on external funding.
Spain meanwhile is the last large world economy to find itself still mired in recession. Its GDP continues to shrink prompting Standard & Poor's to put the country on a negative outlook in December last year. The agency has little confidence in Spain reducing its Government deficit from 11.4% of GDP to the eurozone limit of 3% and could even apply further downward pressure to its ratings should the authorities not take aggressive action to tackle its weak economic growth and near 20% unemployment.
Daniel Dias for developer Signature International building Horizon Sky close to Bodrum comments, "Spain's story is a terribly sad case of a property industry that was allowed to boom out of control in terms of price and sheer volume of new homes that there ultimately wasn't a market for. The collapse of the construction sector has effectively stalled the Spanish economy. Turkey is well-placed to learn from these mistakes, keep an eye on oversupply, be restrained when giving build licenses and ensure its banks avoid non-performing loans to developers. At the moment Turkey is certainly in good shape and all of this bodes well for Turkey's constant endeavour to become part of the EU."
Whilst EU accession remains a long way off as existing member states raise their objections, not least that Turkey would probably become the most populous state in the EU giving it a huge say via weighted voting, this kind of positive publicity from Standard & Poor's is good for the cause. Turkey is ever moving closer towards a European-style democracy and, should EU accession occur, will benefit from increased inward foreign investment which will have a knock-on effect for everyone with a second home in this nation.
About Horizon Sky
Some 35 minutes from Bodrum, on the sundrenched slopes of the Bay of Güllük dipping into the Aegean Sea, Horizon Sky is an upscale community of apartments, penthouses and villas – all with private gardens or terraces. It's the first resort in the area to feature an American-style Country Clubhouse which flanks a private beach. This facility houses a rooftop restaurant, sports bar and café, fitness suite, Spa, heated indoor and two outdoor pools. Meanwhile mini golf, several tennis courts, a grocery store, 11 more swimming pools and various Mexican, water and Japanese relaxation gardens are scattered throughout the resort.
A jetty and private water-taxi are in operation to deliver residents and guests across the Bay to Güllük town, which is a swift ten-minute drive from the International Airport, whilst plans are going through the approval process for an 80-berth marina. This asset will further enhance the investment and rental potential of Horizon Sky. An on-site reception and concierge alongside a rental management office are also on hand to maximize occupancy throughout the year.
Prices at Horizon Sky start from £89,891 for an 87m² duplex two bedroom apartment. Customers can name their deposit, name their preferred term (from five to ten years) and Horizon Sky will adapt a plan to suit. Buyers can pay as little as 0% up front and delay as much as 45% for five years, with no interest charged in between. Monthly payments can be increased or decreased as necessary or the entire amount can be paid off early. The developer is also offering ten-year finance plans at a rate of 4.9% interest, around 2% below a Turkish mortgage rate.
For more information, visit signatureinternational.co.uk.