Signs of recovery in the Turkey property market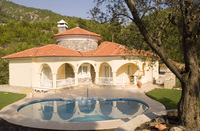 Turkey's economy and real estate sector, though affected by the global economic slowdown, have held up well compared to others in Europe thanks in part to strong local demand and low exposure to international credit markets. The country's solid economic performance was confirmed by a recent upgrade of its credit rating by Standard & Poor, with an analyst from the global ratings company commenting: "Turkey's banking system is one of the strongest and least-leveraged in Eastern Europe."
Official figures indicate the start of a recovery in the real estate sector with home sales up 25% in 2009 compared to a year earlier.
"This is promising news particularly as the property market in the coastal resorts will be kick-started by what is expected to be a record-breaking tourist season, with over 30 million visitors attracted by the country's beautiful coastline and excellent value-for-money," comments Dominic Whiting, editor of the Buying in Turkey guide, buyingin.co.uk
New air-routes from across the UK, a rapidly improving infrastructure and its position outside the Eurozone, will further promote Turkey as a top destination for British property buyers this summer.
Dominic Whiting continues: "Location and quality remain of key importance. Buyers should be looking for property in the best areas, which represents a solid investment as the market bounces back. It will remain a buyers' market for the time being, with some excellent deals to be found, though I expect this to change as the slack is taken out of the market over the next 12-18 months."
Top property tips:
Akkaya Gardens, Dalaman
Stunning award winning 2 and 3 bedroom apartments found in the unspoilt mountains of the Akkaya region. Prices start from £61,200 and only two apartments remain, ready for holiday use or rental from May.
Olive Grove Apartments, Akbuk
On the edge of this quiet resort backed by mountains, spacious two bedroom apartments and duplexes with large balconies overlooking a large pool. Excellent sea views. From £54,950.
Villa Lauren, Fethiye
2/3 bedroom duplex apartment in Ovacik, near famous Oludeniz lagoon. Fully furnished to a very high standard and with over £5,000 confirmed rentals for 2010 season. £75,000.
Lakeview Bungalows, Akkaya
Spacious 3 bedroom bungalows in Akkaya Valley in The Hills development from only £143,000 - £171,000. These properties are set in extremely generous plots, each benefiting for a kidney shaped pool and landscaped gardens. Excellent value properties.
For more information, visit buyingin.co.uk.