Scania drives industry change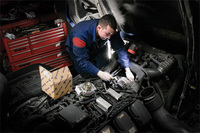 Scania is driving change in the UK truck maintenance industry with its unique and highly competitively priced Fixed Price Repairs programme, which has rapidly established itself as an attractive option with the UK's transport operators.
Available nationwide via Scania's 90-strong service centre network, replacement brake discs and pads, clutches, lights, starter motors and radiators are among the wide range of workshop repair tasks proving particularly popular. The programme is now set to enter a new phase as Scania embarks upon an aggressive marketing campaign to further boost awareness and demand.
"Customers today need to accurately know the costs of repairs in advance – and with prices quoted and guaranteed up front, our Fixed Price Repairs programme breaks the industry mould," says James Armstrong, Aftersales Director for Scania (Great Britain) Limited. "Scania Fixed Price Repairs are based on the known standard times an experienced Scania Technician will take to do the job. We know those times are the most efficient in the industry and if for any reason the job should take us longer, no additional labour charges will be passed on to the customer.
"Furthermore, our Fixed Price Repairs use only Scania parts of the same quality as the original and the price we quote includes all consumables required to do the job. All Scania Fixed Price Repairs carry a full warranty, including roadside assistance and consequential damage cover.
"The net result is that Fixed Price Repairs from Scania are exceptionally cost-effective and represent excellent value for money. And with every job carried out by fully-skilled Scania Technicians, quality, attention to detail and peace of mind are all assured.
"The uptake and demand we are seeing around the UK clearly demonstrates that operators find our Fixed Price Repairs programme an extremely attractive proposition. We will therefore continue to drive the change by further extending the range of jobs covered by the programme. For the future, we will be introducing Fixed Price Repairs to our Ancillary Services business, covering, for example, tail-lifts and fridges, our Tanker Support activities and even our Accident Damage Repair service.
"In summary, with top quality work and highly competitive prices, Scania Fixed Price Repair have been designed to take away the uncertainty and get vehicles back on the road as quickly and efficiently as possible."