Caterham keeping Tameside youths on the right track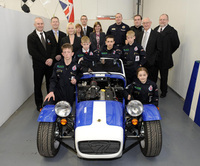 British sportscar marque, Caterham Cars, is helping Manchester's Tameside Council keep its young people on the 'straight and narrow' by engaging them in a car-building contest.
Eighteen youngsters, aged between 12 and 16, will take part in the Tameside Caterham Car Scheme, in which three teams, each with a mentor, will build one of the firm's iconic Sevens from scratch.
Each of the participants has been nominated by uniformed services, including the Police, Community Support Officers, Tameside's Patroller Service and the Fire and Rescue Service.
Councillors hope that the four-month rolling scheme, launched by local MPs in Tameside on March 19, will provide a focus for youths who are not yet involved in other mainstream youth service activities and will help prevent them from being drawn into antisocial activities later on in life.
During the construction, the teams will learn important lessons about mechanics, physics, maths and design, but will also learn life skills such as teamwork, co-operation and respect.
Ashton-under-Lyne MP, David Heyes, said: "I am very pleased to give the Caterham Car Scheme my full backing. It allows young people to indulge their love of fast cars in a highly original and positive way, giving them the chance to learn useful skills and teaching them the value of teamwork. I am sure it will be a huge success.
"Young people are understandably interested in cars and the chance to build a quality sportscar gives them the ideal opportunity to channel their energy to a constructive end, learn new skills and gain opportunities," added Cllr Roy Oldham, the Executive Leader of Tameside Council.
Denton and Reddish MP, Andrew Gwynne, said: "As well as developing team skills, they will learn practical car maintenance, which is always worth knowing. It gives young people a chance to be part of a really worthwhile project."
Stalybridge and Hyde MP, James Purnell, said: "The Caterham Car Scheme is an innovative example of a council and a business teaming up to support young people, who often complain they have too little to do with their spare time."
A similar scheme has already been run successfully at schools in Leicestershire and Kent for the past seven years, but this is the first time the initiative will be used in this social application.
Andy Noble, Sales Director at Caterham Cars said: "Caterham is all about having a passion for driving and performance – the petrol-heads who buy our cars are a special breed of motorist who have a genuine enthusiasm for the joy of driving. Caterham is about sharing the experience and I hope the young people who take part in this initiative find it an enjoyable and worthwhile distraction."