Enjoy the delights of Tokyo, even before you arrive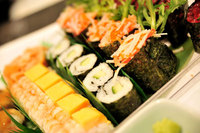 In celebration of the launch of Emirates' new non-stop service to Tokyo on 28th March, the award-winning airline has pulled out all the stops to ensure that its passengers enjoy a truly Japanese experience, even before they have arrived at Narita International Airport.

Japanese specialists at Emirates have been busy preparing a new in-flight menu for both of Emirates' routes to Japan: the non-stop Dubai to Narita and also the daily non-stop flight to Osaka.

The Japanese menu was made with carefully selected ingredients gathered from all over Japan. It includes Koshishikari rice from Niigata, pickles from Kyoto, green tea from Shizuoka and Asakusa Nori dried seaweed, which is well-known as an Edo local product. Adopting the most appropriate cooking method for each of these well selected ingredients, Emirates offers the new Japanese menu in all classes aboard its Tokyo and Osaka flights.

The menu was produced to reflect each region's culinary culture. The Tokyo flight will serve dishes boasting the strong flavours that the Kanto people are accustomed with a red soy soup and Edo style hand-rolled sushi. On the other hand, on the Osaka flight, Emirates offers more subtle flavoured dishes to suit the region's tastes buds with a white soy soup dish and lightly-pressed sushi originating from the Kansai region.

Fine tuning the Japanese menu to reflect the traditional Japanese culinary culture and accommodating the tastes of the Eastern and Western regions in Japan, is just another way that Emirates expresses its respect for regional traditions.

James Griffith, Assistant Vice President, Production, Emirates Flight Catering said: "I am delighted to be able to offer our passengers these high quality Japanese dishes on the occasion of celebrating the Narita inaugural flight. Emirates' in-flight meals have already been highly praised by our Japanese passengers, but the new menu will be specially made from carefully selected ingredients and the cooking methods, taste, and beautifully arranged dishes will, I am sure, satisfy not only Japanese gourmet-lovers but also other nationalities from all over the world."

In addition to the food, passengers will be looked after by Japanese-speaking cabin crew and will be able to enjoy Emirates' in-flight entertainment system ice, featuring more than 1,200 channels of entertainment including Japanese movies, music and many Hollywood films with Japanese subtitles or language dubs.