Ford Focus RS500 - Ultimate performance Ford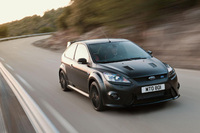 A new and powerful limited edition Focus RS model, called the RS500, is being launched as the ultimate performance Ford and will provide the definitive driving experience for serious performance car enthusiasts.
Making its global debut at the 2010 Leipzig Motor Show in Germany on April 9, the new model has been given the RS500 designation to highlight its strictly-limited production run of 500 individually-numbered vehicles, all of which will be offered for customers to purchase – 101 of them in the UK.
The new Focus RS500 features a muscular 350 PS 2.5-litre 5-cylinder engine, which generates 15 per cent more power than the standard Focus RS and delivers truly exhilarating performance.
The RS500's breathtaking power is matched by an equally dramatic appearance. The limited edition model sports a unique matt black 'foil' paint finish with matching alloy wheels to deliver a powerful visual impact which is unlike any other production Ford.
"We were determined to mark the end of production for the current and acclaimed Focus RS with something even more special," said Joe Bakaj, Ford of Europe's vice president for Product Development. "From its stunning looks to its intoxicating performance, we have no doubt that the RS500 will be appreciated and quickly snapped up by performance car enthusiasts.
"This vehicle joins a long line of iconic RS Fords and is a worthy recipient of the RS500 name, which became synonymous with success on the road and track with the legendary Sierra RS500 Cosworth that dominated saloon car racing during the late 1980s," Bakaj added.
Strictly limited production run of 500 individually numbered vehicles
The RS500 marks the end of production for the current generation Focus RS, with the last vehicles scheduled to leave Ford's Saarlouis Assembly Plant in Germany during September 2010.
While overwhelming customer demand has ensured that total Focus RS output is expected to exceed 11,000 units (significantly more than the 7,000 to 8,000 originally forecast), production of the RS500 will start at Ford's Saarlouis plant in Germany during May and will be strictly limited to 500 customer vehicles for twenty European markets.
Each RS500 will carry a metal plaque on the centre console, hand-engraved with a unique identification number from 001 to 500.
A small number of pre-production vehicles produced for internal Ford use – such as product development or press demonstrators – will have their own unique numbering scheme, to ensure the exclusivity of the 500 customer cars.
Demand for the RS500 is expected to exceed supply by a considerable margin, and the full production run of just 500 vehicles is being allocated across 20 European markets in line with the anticipated level of interest. For some countries, the very small number of vehicles allocated means the RS500 will, indeed, be a very exclusive purchase for its customers.
A dedicated website – focusrs500.com – will allow customers and enthusiasts to gain further information, including projected quantities of available vehicles by market, plus access to download photography and video clips. The site will also provide links to national Ford websites so customers can identify dealers and prices.
Focus RS also has its own Facebook page – facebook.com/fordfocusrs – with more than 13,500 fans from across the world, and RS500 launch activities will be shared on this site.