Peugeot's LCV sales go from strength to strength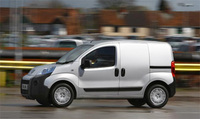 Peugeot's strong LCV sales' performance in 2010 has continued with an 8.55% market share for the first quarter.
A total of 2,632 light commercial vehicles were sold by Peugeot in March, up 41.4% compared to March 2009, in an LCV market up 16.1%. This excellent performance builds on the strong performance in January and February this year.
The Peugeot Bipper and New Partner have both reported strong sales' growth in March. The practicality, compact size and clever packaging of the Peugeot Bipper is winning many customers who are downsizing into vehicles which are more fuel efficient and closer to their actual load carrying needs. It was also these winning qualities which resulted in Peugeot winning a deal to provide the Royal Mail with 2,000 fuel efficient Peugeot Bipper vans as part of its fuel efficiency strategy. Powered by Peugeot's class leading 1.4 litre HDi 70 diesel engine and emitting 119 kg/km of CO2, it will help the Royal Mail to reduce its fleet fuel costs and emissions.
The Peugeot Bipper can provide a load capacity of up to 2.8 m3 when specified with the multi-flex passenger seat and a combined fuel consumption of 62.7 mpg.
Sales of Peugeot's Partner van also continue to go from strength to strength with sales up 35.1% in the first quarter, compared to 2009.