Ford Focus RS is a big hit for Alastair Cook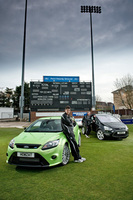 England and Essex cricket star, Alastair Cook, picked up the keys to a new Ford Focus RS at Essex County Cricket Ground this week.
Alastair Cook has recently returned from Bangladesh, captaining England to five successive victories. After an outstanding cricket performance, he decided to upgrade his Ford Focus ST to the higher powered Focus RS.
Brand manager David Calder said: "Alastair and the Ford Focus RS are fantastic partners. He possesses many qualities we associate with this car: performance, class, quality and entertainment."
2010 marks the sixth consecutive year of support for Essex County Cricket Club from Ford.
Mark Simpson, marketing director, Ford of Britain said: "Ford and the game of cricket both have a strong British heritage and we're delighted to extend this relationship with the Essex County Cricket Club and its players."
England legend and Essex CCC head coach, Graham Gooch, also collected the keys to a brand-new Ford S-MAX which goes on sale this month. Other high-profile Essex players already drive Fords, including Ravi Bopara who has a stylish Ford Kuga all-wheel-drive.