High-flying Peugeot vans shake up LCV sector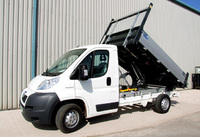 Next week's CV Operators' show at the NEC, starting 13th April, will feature a Peugeot stand (No. 5670) loaded with innovative vehicles, including a Roadload U-tail Boxer van concept, an all electric Expert van, the latest Partner Crew van, plus the launch of Peugeot's Conversion Programme for the Boxer Van.
These will also be joined on the stand by other models from Peugeot's popular range of practical, modern light commercial vehicles.
Alongside the standard Expert L1H1 van, there will be an electric Expert van converted by Allied Vehicles, based on the larger Expert L2H2. There will also be the 2009 International Van of the Year, the Peugeot Bipper, wearing the very latest Royal Mail livery, after securing a major fleet deal at the beginning of 2010.
The Peugeot Boxer Roadload U-tail concept
The centrepiece of the Peugeot stand will be an innovative concept which demonstrates how a flexible modular transport and storage system can be added to a Boxer chassis cab. With an automated lifting, lowering and tilting system, the U-tail offers a range of load modules including a tipper, a flat bed and a range of load boxes. It adds a new level of ease to daily deliveries, plant work or the moving of a wide range of small loads in a controlled manner.
The Peugeot Conversion Programme
Visitors to the Peugeot stand will also be able to discover the new Peugeot Conversion Programme, which will provide a range of specialist body conversions for the Peugeot Boxer Chassis range.
Whether for a single vehicle or a large specialist fleet, Peugeot's new conversion programme will offer a comprehensive service with a single point of contact from the point of order to customer delivery. There will be a range of popular accessories including mesh cages, tail lifts, towing hitches and warning beacons all available prior to delivery.
The range will be launched with two standard conversions, the Boxer 335 L2 120 Tipper and the Boxer 335 L3 120 Dropside, which will be displayed on the stand.