Ford's new large cars launched with stronger residual values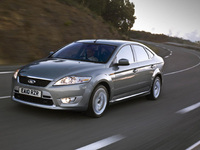 Ford's new S-MAX and Galaxy, and revised Mondeo boast improved residual values of up to £1,275 according to independent experts.
The residual value increases over three years and 60,000 miles reflect enhancements on Ford's new large car range, including styling refinements, new technologies, more efficient powertrains and advanced transmissions.
CAP's manufacturer relationships manager, Martin Ward said: "When looking at the new Ford S-MAX against the outgoing model side by side, the differences are obvious. Its exterior lines are sleeker and give it a bolder appearance. The front end has been tidied up and as a consequence is much neater and more striking.
"With the added benefit of more efficient powertrains, this vehicle is an even better proposition for new car buyers", he added, "and with a seven-seater sports car design, it will continue to appeal greatly to the user car buyer."
CAP Monitor, April 2010, set residual values over three years and 60,000 miles for new S-MAX, Galaxy and Mondeo Titanium 2.0 TDCi (140PS) PowerShift Auto five-door at £9,925, £9,475, and £6,700 respectively. This represents improvements of £1,275, £825 and £175, respectively, over outgoing models.
Coupled with lower CO2 ratings, lower P11D tax ratings, and enhanced fuel economy, this leads to overall whole life cost savings potentially of upwards of £1,000 annually, which benefits both company car drivers and fleet businesses.
Kevin Griffin, fleet director Ford of Britain, said: "The new Mondeo 2.0 TDCi 140PS delivers an impressive 53.3mpg combined and average CO2 emissions of just 139g/km. This moves the Vehicle Excise Duty band from G to E and immediately saves £135 on the tax disc cost over three years. Drive 60,000 miles and because of improved efficiency you could also save £658 in fuel costs, based on 114p per litre compared with the equivalent prior model Mondeo."
On sale this month, Mondeo, S-MAX and Galaxy are priced from £17,295, £20,645 and £22,945 respectively, representing savings of up to £3,400 compared with outgoing equivalents and with insurance ratings starting from just 12E on the new ABI insurance ratings 1-50.