British developer goes green in Turkey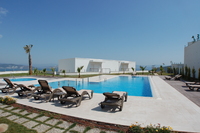 Whilst Britain created the world's first environment ministry back in 1970, Turkey only established its Environment Ministry in 1991 and has some catching up to do on environmental policy – particularly when it comes to housing. Against this backdrop residential property developers rarely bend over backwards to create 'green' homes - except for Bodrum's Horizon Sky that is.
UK developer Galliard Homes is building, in joint-venture with Signature International, the top-quality resort of Horizon Sky. Daniel Dias for Horizon Sky, comments, "Environmentally Turkey has its eye on the bigger picture, addressing waste management and air pollution in its big cities, as part of its goal to joining the EU. It has nothing like the depth and breadth of legislation as found in the UK relating to the construction industry. Yet we've opted to exceed Turkish standards and instead emulate British Standards. It's both the responsible and ethical thing to do."
Energy Efficiency and Environmental C02 Impact Ratings for Horizon Sky fall well within UK regulations so owners can expect good insulation, low-emission appliances, efficient hot and cold air-conditioning systems and sealed unit double glazing. Elsewhere on site Turkey's abundant solar energy is going to be harnessed to maintain a comfortable temperature for the large outdoor fitness swimming pool alongside the tennis courts. Meanwhile all waste water will be treated and reused for irrigation – a big plus for a dry nation that needs to conserve its fresh supplies.
In a bid to maintain, and indeed augment, biodiversity, over 60,000m² of Horizon Sky will be given to communal landscaping and gardens featuring over 40 types of exotic plants, trees and shrubs. These Mexican, water and Japanese relaxation gardens will provide tranquil havens for guests – both human and wildlife. An additional water feature is going to be created making use of a natural underground watercourse in order to encourage further biodiversity. Any native species in the path of construction will be replanted or replaced. As an example, whilst enhancing the beach with imported sand, the developers discovered some incredibly large mussels up to 45cm in length and 50 years in age. A diver was employed to relocate them along the bay. This view on conservation is typical throughout Horizon Sky.
Daniel continues, "One by-product of our high specification resort is the knock-on improvements for the surrounding communities. Horizon Sky's electricity requirement is going to be fulfilled by the installation of a 33,000 high voltage line which will end up feeding our neighbours giving them a far superior and more reliable supply. It will also reduce the number of unsightly pylons blotting the landscape. We're also considering an on-site recycling scheme for paper, glass, kitchen waste and so on; this could in time be rolled out to the local municipality which has no such existing programme. As a developer we try to think beyond the boundaries of our resort."
About Horizon Sky
Some 35 minutes from Bodrum, on the sundrenched slopes of the Bay of Güllük dipping into the Aegean Sea, Horizon Sky is an upscale community of apartments, penthouses and villas – all with private gardens or terraces. It's the first resort in the area to feature an American-style Country Clubhouse which flanks a private beach. This facility houses a rooftop restaurant, sports bar and café, fitness suite, Spa, heated indoor and two outdoor pools. Meanwhile mini golf, several tennis courts, a grocery store, 11 more swimming pools and various Mexican, water and Japanese relaxation gardens are scattered throughout the resort.
A jetty and private water-taxi are in operation to deliver residents and guests across the Bay to Güllük town, which is a swift ten-minute drive from the International Airport, whilst plans are going through the approval process for an 80-berth marina. This asset will further enhance the investment and rental potential of Horizon Sky. An on-site reception and concierge alongside a rental management office are also on hand to maximize occupancy throughout the year.
Prices at Horizon Sky start from £89,891 for an 87m² duplex two bedroom apartment. Customers can name their deposit, name their preferred term (from five to ten years) and Horizon Sky will adapt a plan to suit. Buyers can pay as little as 0% up front and delay as much as 45% for five years. Monthly payments can be increased or decreased as necessary or the entire amount can be paid off early. The developer is also offering ten-year finance plans at a rate of 4.9% interest, around 2% below a Turkish mortgage rate.
For more information, visit signatureinternational.co.uk.