Peugeot Vans collect two iVan Awards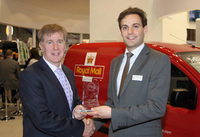 Peugeot got off to a flying start on the first day of the CV Operators' Show, collecting two prestigious iVan Awards. The Peugeot Bipper picked up the 'Best Light Van 2010' Award and the Peugeot Expert won 'Best Compact Van'.
The awards continue a hugely successful year for Peugeot's LCVs, with sales up 65.1% in a market up 12.6% so far this year.
Tim Campbell, publisher and Executive Editor of iVan and iTruck magazines, said: "These awards were judged by our editorial team plus fleet and retail customers, so recognise the stand-out vans have in real world use. These particular categories are a battle-ground of practicality and costs, and the Peugeot vans are unbeatable for usability, low emissions and all-important running costs. They have consistently dominated these two categories."
Receiving the awards, Richard Gavan, Peugeot Light Commercial Vehicle Product Manager, said: "With its load capacity of up to 2.8m3 and combined fuel consumption of 62.7 mpg, the Peugeot Bipper is delivering exactly what modern users increasingly require, as evident by this award on top of its International Van of the Year award for 2009. On our stand at the show, Bipper is proudly wearing the Royal Mail livery after the company took2,000 of these vans as part of its fuel efficiency strategy. And Peugeot Expert too, with its superb engines and a range of highly practical sizes is providing an excellent real world tool as companies look to maximise economy and efficiency."
Peugeot's stand at the show was alive with visitors keen to take a close look at its range, as well as the new Conversions Programme for the Boxer chassis and the innovative U-tail Concept. The Peugeot Boxer Roadload U-tail Concept demonstrates how a flexible modular transport and storage system can be added to a Boxer chassis cab, adding a new level of ease for daily deliveries, plant work or moving a whole host of small loads in a controlled manner.