Newcastle wins the Chevrolet Spark Unscheduled Tour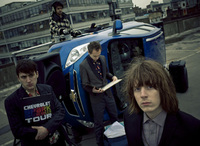 Following on from the launch of the Chevrolet Spark Unscheduled Tour last week at the Vinyl Factory in London's Soho, members of the public have been voting in their thousands on where they'd like the tour to go to next. With Newcastle, Liverpool and Birmingham switching for first place every couple of minutes, it went right down to the wire and the city that edged into the lead to win is Newcastle.
Choices included Birmingham, Manchester, Liverpool, Newcastle, Brighton, Edinburgh and Bristol with unique venues ranging from a drained swimming pool and multi-story car park to an old picture house and ferry across the Mersey.
Critically acclaimed band, The Mystery Jets will be playing at the gig, following on from their European tour with the Arctic Monkeys, and guests will be given the opportunity to hear their eagerly anticipated third album performed live in the UK before its release in June.
The Chevrolet Spark Unscheduled Tour will take place in five locations across the UK. Each gig will be a different location and offer a unique live music experience, as a 'pop up' event, where you'll probably never see live music ever again and will take place every two weeks throughout April to June.
The Chevrolet Spark Unscheduled Tour is an invite-only event. Make sure you sign up for your FREE ticket and don't miss out as numbers are limited sparkunscheduled.co.uk.