New Scania V8 truck range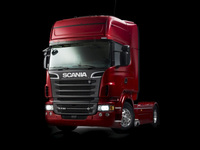 With 3500 Nm and 730 hp, Scania's new top-of-the-line V8 has the highest torque and power ratings of any truck engine. New styling traits make all of Scania's prestigious V8 trucks immediately recognisable on the road. Four engine outputs are offered, 500, 560, 620 and 730 hp. Scania XPI and a host of other innovations on the new 730 hp engine raise heavy truck productivity to a new level.
In conjunction with the launch of the new top-output engine, Scania's range of V8 truck models – based on the new Scania R-series, International Truck of the Year 2010 – are given a unique identity that reflects the strong position these models enjoy on the market, among drivers as well as operators.
"Scania's V8 trucks have built a niche of their own in the truck market," says Henrik Henriksson, Senior Vice President Trucks at Scania. "The vast majority of Scania's V8 customers buy for rational reasons. They need the performance, dependability and availability to get their job done as efficiently as possible.
"This unique combination of performance, transport efficiency, fuel economy, durability and driver appeal means high productivity in all respects. As a result, Scania V8 truck models have the highest resale value in the market. The new styling further builds on this image.
"The sheer power of the new R 730 is important, but even more so is the torque rating. Having 3500 Nm of torque on tap makes a joy out of any transport task and is bound to put a smile on every driver's face," concludes Mr Henriksson.