Win a Mitsubishi ASX crossover online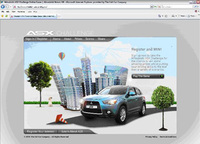 To help support the launch of Mitsubishi's all-new crossover – the ASX – on-sale from July 1st this year, Mitsubishi Motors (UK) has just launched a new online game called 'The Mitsubishi ASX Challenge'.
The game can be found by going directly to mitsubishi-cars.co.uk/game, or via Mitsubishi's new ASX Facebook Fan page at Facebook.com/ASXcrossover.
Mitsubishi's Managing Director, Lance Bradley, commented that, "The ASX crossover is a very important car for us, and could easily become a new 'hero' vehicle for the brand. Early press and customer reaction has been very positive with a number of advance orders already taken. Customers clearly want to communicate and interact with us in new and innovative ways, including Facebook and online gaming – which suits the ASX perfectly with its array of innovative features, including CO2-lowering technologies, modern styling and high-specification levels across the range."
Game play and features:
Players are set various 'missions' and 'mini-games', which unlock product features and accumulate points and prizes along the way. The more a user plays the game and the better they do, the more points they can earn and the more prizes they win.
The game uses cutting-edge technology and Advanced Artificial Intelligence Traffic System - including cars, traffic lights and one-way systems. To further aid interaction and competition amongst friends, gamers can post the game to their Facebook Wall through Facebook Connect and invite their friends by email.
The missions and mini-games
Two "missions" involve driving from A to B in "Drop the Kids at School" and "Mother-in-Law Chauffeur". The game uses an innovative Penalty System for reckless driving while on a mission.
Three mini-games are also included from launch, including "Parking Panic" which tests your dexterity to avoid hitting parked cars and lose points; "Flying Colours Driving Lesson" where the driving lesson tests your agility and steering skills, while "Car Pong" is a fun rework of the classic 'tennis' game.
Future releases
Two more missions ("PTA Meeting" and "Delivery Boy") and two more mini-games ("Packing" and "Country Race") will be released in May. The second release will also feature a fully-working Mitsubishi dealership, where gamers can go and change the colour of their ASX in the game.
Winners and prizes
Gamers can also earn bonus points by inviting their friends and family to play the game. At the end of the period the top fifty highest scores will be entered into a prize draw to win an all-new Mitsubishi ASX crossover.
In addition to having the opportunity to win a car, all players have the opportunity to earn points and get over £1,000 worth of goods when they buy a new ASX.
Points structure for prizes:
25,000 points - Free Mats for your ASX worth £45
50,000 points - Accessories worth £200 for your ASX
100,000 points - Free Mitsubishi Service Plan for your ASX worth £350
150,000 points - Free Metallic Paint for your ASX worth £440
Players have until the end June to play the game and earn points