HCT takes delivery of new Scania OmniCity double deckers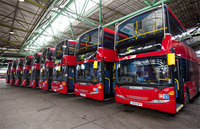 Hackney, London-based HCT Group has taken delivery of its first ten new Scania OnmiCity double deck buses. Built to TfL specification and delivered by Scania (Great Britain) Limited, the new vehicles are now in service on HCT Group's route 212, St James' (Wathamstow) to Chingford route.
"The big attraction from our point-of-view is that the Scania OmniCity means dealing with a single supplier," comments HCT Group Regional Manager, George Mutch. "We have previously purchased used Scania buses, so the brand's reliability and performance is already known to us. Nonetheless, before committing to this order we evaluated the market before concluding the Scania package provided the best possible solution for our business needs."
HCT Group's new OmniCity double deckers are equipped with 230 hp Scania Euro 5 engines featuring EGR (Exhaust Gas Recirculation) technology and ZF 6HP504 fully automatic six-speed gearboxes.
Based on Scania's modular design concept, the OmniCity family provides a full range of models, including low floor and low entry single deck and articulated variants and low-floor double deckers. Designed and built entirely by Scania, OmniCity vehicles combine a stylish exterior with a flexible choice of interior layouts in a programme designed to fulfil the needs of every urban, suburban and inter-urban application.