Plan-it Travel and Carvers Coaches enjoy promotional visit to Irizar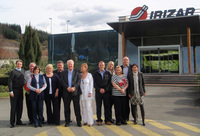 Two well-known UK coaching companies joined forces recently to enjoy a VIP visit to the Irizar coach bodywork factory in Ormaiztegi, northern Spain, courtesy of Scania (Great Britain) Limited.
Orpington, Kent-based Plan-it Travel and Carvers Coaches of Ellesmere Port were both invited on the visit as purchasers of premium specification Scania Irizar triaxle PB coaches during a special promotional period organised by Scania towards the end of last year.
The visit saw key members of the Plan-it Travel and Carvers Coaches teams taken on a factory tour of the Irizar plant accompanied by Scania (Great Britain) Limited Regional Account Managers Lee Wale and Graham Tkaczyk. Partners were included in the visit, which included a stay at the picturesque seaside town of San Sebastian.
"It was a great trip for all concerned," comments Graham Tkaczyk. "The Irizar product has an excellent reputation for build quality and passenger comfort and this visit showed how the company takes its designs from the drawing board through to production. Moreover, from an operator's point-of-view, it's not every day that you get the opportunity to see the place where the body of your vehicle was designed and built – so everyone found the factory tour of particular interest."