Maserati supports the Berkeley Dress Show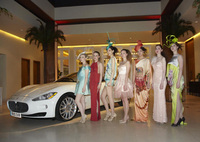 Maserati GB was proud to support the Berkeley Dress Show, opening event of the London Season for over sixty years.
The Berkeley Dress Show, held this year at the Hurlingham Club on St. George's Day, is the official opening of the London Season, chaired by Mrs David Hallam-Peel, which also features in its calendar the Queen Charlotte's Ball. The Queen Charlotte's Ball is a charity event founded over two hundred and fifty years ago by Queen Charlotte with the help of the debutantes of the time to raise funds for mothers and babies for the hospital later called Queen Charlotte's Hospital; this year it will be held on Monday, September 13th, at the Treasury House of the Inner Temple.
The Berkeley Dress Show presented this year 34 debutantes. The young ladies, wearing head pieces by royal milliner John Boyd and dressed by eight of the best young, up and coming designers (all graduates from Central St. Martin's and the London College of Fashion), were styled and choreographed by the London Season's Creative Director Lukas Kroulik, who had enlisted the help of a team of 15 hair and make-up artists, led by Kenny Leung, who worked alongside fashion stylist Katie McDowall. All 34 debutantes appeared on a runway of which the new Maserati GranCabrio, in Bianco Eldorado (plain white) with Marrone Corniola (dark brown) interior, was the centrepiece.
The fashion show was preceded by a champagne reception that saw as guest of honour Her Highness Princess Olga Romanov. As the evening unfolded, guests were able to enjoy the performances of The Honourable Drummond Money-Coutts, founder of the Eton College Magic Society, and of The Jive Aces, Prince Philip's favourite band. Over ten thousands pounds were raised during the evening, thanks to a charity auction for "Veterans-Aid", an organisation which supports disabled soldiers.
As every year, the Berkeley Dress show ended with the traditional bride and groom procession. Groom Harry LLewellyn-Jones "arrived" on the catwalk in the Maserati GranCabrio to meet his bride Idina Moncreiffe of Moncreiffe, who looked stunning in her bridal gown by Elie Saab for Pronovias and jewels by Mikimoto.