Caterham ups production to meet demand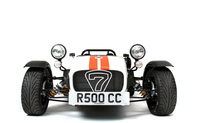 In response to buoyant sales of its lightweight two-seater sportscar, Caterham Cars has announced plans to ramp up capacity at its Dartford factory for the foreseeable future.
Not only will the move help the Company continue to meet healthy demand for the Seven, the increase in capacity will go some way to shortening the current 3-4 month waiting list.
Over the past 12 months, Caterham has enjoyed consistently strong sales both in the UK and a rapidly-maturing overseas market. The British marque was one of only three European brands at the Tokyo Motor Show last November.
"Despite the economic background we have recorded an extremely positive sales period," says Ansar Ali, Managing Director of Caterham Cars. "Adding to our capacity merely underlines our position in the market."
In the UK, the Roadsport 175 and the more track-focused Superlight R300, remain the most popular models, just ahead of the entry-level Ford Sigma-powered Roadsport 125.
Since its launch in March 2008, Caterham's range-topping Superlight R500, which can hit 60mph in under 2.9 seconds, has sold around 100 units worldwide to date - a figure its predecessor took a five-year period to achieve.
Ali adds: "The Export market has certainly been boosted by the exchange rate but more decisively by our success in achieving European Type Approval last year and the launch of the Ford Duratec powered Roadsport 175. Collectively they have combined to deliver for us."