Discover Zimbabwe's 'Lion Country' with Acacia Africa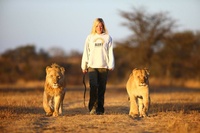 Conservation encounters don't just enable positive changes in the host country; they can change your entire perspective.

A case in point, British conservationist, David Youlden, might have traded London for Zimbabwe as a volunteer, but now he is spearheading a radical project at the Antelope Park, in order to save Africa's iconic predator, the lion. A serious undertaking, estimates indicate that over 200,000 lions may have roamed the continent in 1975, figures declining by 80-90% in less than 30 years. The "Rehabilitation and Release into the Wild" programme aims to develop the natural hunting instinct of captive lions, ensuring their continuing survival in the African wilderness. A cause that has already captured the imagination of 4.8 million UK viewers, ITV's "Lion Country" is a six part documentary series featuring the reserve, the fourth episode to air on Wednesday 05 May at 19:30 (GMT).

Acacia Africa's 7-day Rediscover Zimbabwe small group safari (£475pp + local payment from £182pp) incorporates a stay at the Antelope Park and an opportunity to watch the big cats practice their predatory skills on the "night encounter".

In addition, the reserve, which was recently voted as one of Southern Africa's most intriguing destinations, offers, elephant swims, bush walks, carriage rides, bird viewings, lion feeds, horse rides, cub viewings and game drives. A new release site (to be completed in 2010) will also allow lion lovers to experience the thrill of joining a pride of lions roaming independently in their natural environment.

This year Acacia Africa extended its voluntour portfolio with seven new itineraries. Ideal for adventurers who are looking to gain an insight into wildlife conservation and perhaps even follow in David Youlden's footsteps, the tour operator's trips cover South Africa, Swaziland, Botswana and Zambia.

9-day Cheetah & Kruger Combo (£1,085pp + local payment from £106pp): Based at one of the continent's oldest wildlife care and conservation schemes, the Race Against Extinction Project," in South Africa is a "hands on" experience. Visitors will have the opportunity to care for a variety of animals including, the wild dog, riverine rabbit, suni antelope, cheetah and numerous vulture species; one of the most popular pursuits involving the grooming of the organisation's 'ambassador cheetah'.

21-day Botswana & Victoria Falls (£2,730pp): Incorporating the Wilderness Large Predator Elephant Project on the outskirts of Botswana's Chobe National Park, volunteers will assist in tracking and recording animals, including elephants and large predators. Additional community visits also allow adventurers to gain an insight into the local culture and the everyday conflicts between the villagers and resident wildlife.

10-day Cheetah & Wildlife Conservation (£1,710pp): The voluntour includes stays at the Race Against Extinction project and a wildlife farm in the Kruger National Park. The 350-hectare farm is a haven for cheetah and wild dog that have been retired from breeding programmes. Numerous pursuits are available, volunteers participating in anti-poach snare sweeps, preparing food and cleaning enclosures.

Acacia Africa also offers one-day voluntour experiences or visits to wildlife projects on many of its overland tours and small group safaris.

For more information, visit acacia-africa.com.