New Scania R 620 flagship for Knights of Old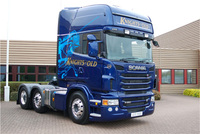 Kettering, Northamptonshire-based transport and logistics specialist, Knights of Old Limited, has taken delivery of a new flagship for its fleet, a high-specification Scania R 620 LA6x2/4MNA twinsteer model.
Designated fleet number 100, this new vehicle features a bespoke livery, alloy wheels, extensive chequer-plating around the chassis and a luxuriously-appointed Topline cab. In service, this truck will replace 'Excalibur', the specially-commissioned 'gold' Scania purchased by Knights of Old seven years ago to celebrate its golden jubilee. The new truck will bear the same name (the company has a tradition of naming its vehicles after Arthurian legend) and, like its forebear, will be driven by the same man, the firm's longest-serving driver, Peter Morrell.
The vehicle has been supplied by TruckEast Limited, Scania's Wellingborough-based dealer for the northern Home Counties and East Anglia, which will also be responsible for the on-going maintenance of the truck under a six-year full repair and maintenance contract.
To commemorate its delivery, a special handover was carried out at the premises of Scania (Great Britain) Limited recently where Knights of Old Managing Director Ian Beattie, together with Operations Director Paul Abbott and Peter Morrell, received the keys from Scania (Great Britain)'s Managing Director, Hans-Christer Holgersson.
Commenting on the delivery of his company's new flagship, Ian Beattie said, "We are delighted to be putting this exciting new vehicle into service. We have operated Scania for many years and currently have 87 on the fleet – and the reason we keep coming back for more is due to their quality, reliability and consistently good fuel returns. We also enjoy an excellent relationship with our dealer, TruckEast, whose service is key to our business as it leaves us free to focus on our clients without having to worry about who is looking after the fleet."
Driver Peter Morrell was also upbeat about the company's latest acquisition: "I'm thrilled," he said. "It's been kept as a surprise for me, and if you'd asked me beforehand I'd have said you couldn't beat my old truck – but they have, it's fantastic. I'm a very lucky bloke! Being involved in both UK and European work means I spend an average of four days out of every seven living in the cab. The way I feel right now, I just wish it could be eight days a week…!"