Ford launches new S-Max and Galaxy to 'Mumsnet' families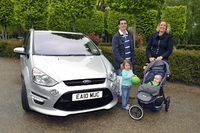 Families who use Mumsnet's vibrant parenting forums have been introduced to the new seven-seater Ford S-MAX and Galaxy range.
Ford's partnership with Mumsnet enabled eight families to familiarise themselves with the technology-laden MPVs. They then drove petrol and diesel models, featuring Ford's new smooth and economical six-speed PowerShift automatic transmission.
Parents reviewed the simple and secure operation of approved child seats located using Ford's integral ISOFIX fitting points. Families soon became familiar with how the cars' air con, audio and bonded phones can be controlled with steering wheel-mounted controls.
Mums and dads, blogging later on Mumsnet.com said: "I've driven a fair few people carriers in my time and have tried several of the newer ones on the market and frankly none of them compare to this. The Galaxy is the people carrier to beat now.
"We took out the 2.0 TDCi Titanium, with 163 PS option. It was an auto with the new Powershift transmission. It coped well with everything I threw at it, I could really appreciate the dual clutch - the changes were pretty much seamless. Engine was very responsive, with plenty of oomph when overtaking. As for the cabin, the kids were in heaven! They loved the space and the array of hatches on the central roof console. I remembered my iPod so the kids could bop away to their playlist thanks to the connector in the glove box."
A draw awarded two participating families with a Ford S-MAX and Galaxy for an extended three-week test drive, which will enable them to share their experiences through a video diary on the site.
Mark Simpson, Ford Britain marketing director, said: "In a year when the new S-MAX and Galaxy will be joined by new five and seven-seat family-friendly C-MAX models in the autumn, there could not be a better time for Ford to partner a high-profile and influential site like Mumsnet."
Co-founder of Mumsnet, Carrie Longton said: "Ford are to be congratulated for realising that, more often than not, it's mums who are driving the decision-making process on what family car to buy. Mumsnetters have been queuing up to take part in the test drives and are loving the opportunity to road test and offer feedback on these top-of-the-range Ford cars."