Four prizes for Ford in Fleet World honours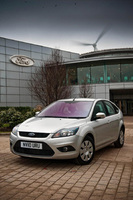 Ford has won four top awards in the 2010 Fleet World Honours, including the Best Fleet Car prize for the Ford Focus and Best MPV title for the Ford S-MAX.
The Ford Transit Connect was named Fleet World's Best Small Van, and Ford also collected the Innovation Award for its ECOnetic CV range. The trophies were presented today at a special ceremony at London's Royal Automobile Club.
Best Fleet Car – Ford Focus
Fleet World's judges chose the Focus for the top award because of its reliable and dependable nature at a time of economic uncertainty.
"While the rest of the market grappled with the onslaught of recession, the Ford Focus showed why it is the best car in the fleet market by marching on untouched," said the judges' chairman, Fleet World editor Steve Moody. "Sales barely dropped from the year before and outstripped any other model by a distance, illustrating that when businesses want a trustworthy, reliable, efficient and attractive fleet car, their first stop is the Ford Focus."
Best MPV – Ford S-MAX
The Ford S-MAX triumphed in what was described by the judges as one of the toughest sectors of the market. "Ford's S-MAX continues to be the pacesetter, with stylish design, excellent engines, flexible interior space and, of course, first-class back-up from Ford's fleet sales operation," said Moody.
Best Small Van – Ford Transit Connect
Following its victory in this division in 2009, the Ford Transit Connect was named Best Small Van for the second year in succession. Van Fleet World editor John Kendall said: "Transit Connect benefits from Ford's extensive van-building know-how, so it's built to take the rough and tumble of working life and still be an attractive used buy. That and a choice of short wheelbase, long wheelbase and crew van options help to maintain its popularity as a fleet buy."
Innovation Award – Ford ECOnetic
The introduction of Ford's ECOnetic technology to its CV range earned special praise: "One of life's certainties is that fuel prices will continue to rise," said Kendall. "Van fleets can rack up large annual mileages and reducing fuel costs is a top priority. Ford was one of the first van makers to transfer its fuel consumption reducing technologies from car to van with the launch of the Transit and Fiesta van ECOnetic model last year. It's just what van fleet operators need."
Commenting on the high standard of entries in this year's awards, Fleet World managing editor Ross Durkin said: "The fleet industry is emerging from a period of economic uncertainty in a very strong shape indeed. As well as the impressive list of new cars and vans that have recently come to market, we have also seen tremendous innovation and investment from the fleet services sector. Anyone looking in on the fleet industry from the outside world could not fail to be impressed with how well it has put its house in order, despite the recent economic downturn."
Ford's success in the Fleet World Honours was welcomed by Ford of Britain director of Fleet Operations, Kevin Griffin: "These awards are an affirmation of Ford's continuing success in the British fleet market, and I know that everyone involved with the development and success of our Focus, S-MAX, Transit Connect and ECOnetic products will be heartened by this recognition."