Eddie Stobart starts new distribution contract for Tesco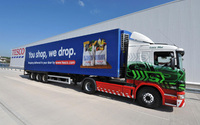 Eddie Stobart starts new £25 million per year distribution contract for Tesco with first goods movements from state-of-the-art new chilled distribution centre in Widnes.
The symbolic first shipment of goods passed out through the gates of a new 528,000 square-foot Tesco chilled distribution centre in Widnes today.
Tesco's new chilled distribution centre is part of the Mersey Multimodal Gateway, a brown-field site development undertaken by Stobart Group, in partnership with Halton Borough Council.
The project, which is about to move into phase two of the development (having just this month completed phase one), represents a major investment in the region, and will support the creation of up to 5,000 jobs when completed.
The Mersey Multimodal Gateway is a strategically located logistics hub developed by Stobart Group, which is served by a strong road network, deep-sea port and railhead. This will help provide full integration of the transport modes through the hub and allow Stobart Group to offer further low-carbon logistics solutions to its customers.
HRH Prince Andrew, The Duke of York, and also the UK's Special Representative for International Trade and Investment, visited the site last month and referred to it as "a very refreshing enterprise" for the region during a tour of the facility hosted by Stobart Group and Halton Borough Council.
Steve O'Connor, Managing Director of Stobart Ports, said: "This week is a landmark in the development of this region as a whole. Today's activity at the site marks the completion of phase one of this major project for Stobart Group, Halton Borough Council and the Mersey region. Tomorrow sees us host a big group of existing stakeholders and potential new customers and occupiers for the site that will help carry us through to the completion of phase two of the development. Ultimately this project will create 5,000 jobs in the region, and that is something we all know is well worth working for."