Porsche offers two-year warranty on Approved Used cars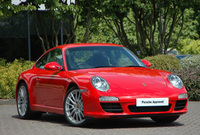 Porsche is boosting customer peace of mind by extending the warranty on its Approved Used cars to two years from June 1.
For many customers, the Approved Used programme for pre-owned Porsche cars is the avenue via which they purchase their first Porsche, and the new two year warranty initiative adds further allure to the prospect of Porsche ownership.
Every Approved Used Porsche is subject to a rigorous 111-point check at a Porsche Centre prior to its re-sale that endorses and underwrites its provenance. Each car is re-conditioned where necessary and only Porsche Genuine Parts are used to bring cars up to the required standard. Amongst the comprehensive checks carried out, the service and ownership history is verified. Vehicles that successfully pass these checks receive a special distinction: the Porsche Approved seal.
The Porsche Approved warranty covers, without restriction, 100 per cent of the labour and material costs of all components in the engine, fuel system/cooling system, transmission/drive assembly, steering/suspension, brake system, air conditioning/heating, electrics and body.
The warranty is fully transferable if sold privately or back to a Porsche Centre, and as such can enhance the re-sale value of the car. Combined with the warranty is also a concurrent Porsche Assistance package that provides a comprehensive level of Europe-wide cover including road-side recovery, car hire and hotel accommodation where necessary.
A full overview of the Porsche Approved programme including an on-line interactive used car locator of vehicles available at Porsche Centres throughout the UK is accessible via porsche.com/uk/approvedused/usedcarlocator/
More than two-thirds of all Porsche vehicles ever built are still on the road. The Porsche name therefore stands not only for performance and an unforgettable driving experience, but also long vehicle life. Many Porsche customers appreciate this fact and enjoy their cars for long periods. This new offer of extended cover recognises this and allows owners to continue driving with added peace of mind.