Seven reasons to go from road to track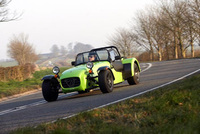 Hire a Caterham Seven for either the day or a weekend and you could find yourself on one of the UK's leading racetracks.
From June to August inclusive, anyone booking one of the iconic two-seater British sportscars from five locations across the Country will be eligible to win a place on a Caterham Drive Experience track day in September.
Prices start from £150 for the day, £295 for two and from Friday to Monday for just £395.
Every day 'on hire' equates to one chance to win, so a long weekend booking gives you 4 chances.
Caterham's unique race-for-the-road experience is now available from its Surrey and Leicester showrooms plus Mark on Europe in Swindon, Open Road Hire in Perth, Scotland and Roadsport Hire in Yorkshire.
All the sites are within a stone's throw of some of the UK's best driving roads and each hire venue will happily provide customers with suggested routes, or in Caterham speak: 'B-Road Blats' to enjoy.
For more information, visit caterham.co.uk.