Santa can drive it like he stole it!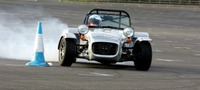 So whats the criteria for this year's most memorable Christmas present? Adrenalin? Hair-raising? Thrill a second? Perma-grin?
If you want to tick any of the above, how about offering a loved one the chance to strap themselves into one of the best handling cars in the world?
From just £99, you could treat them to an unforgettable experience behind the wheel of the legendary Caterham Seven at one of the carmakers truly unique Slalom, Track or Drift events. Visit caterham.co.uk
And don't just think it's a treat for thrill-seeking boys; 30 percent of vouchers are sold for female recipients.
Although it has just celebrated its 50th anniversary, the Seven remains the closest thing to a racing car on the road. Stripped to the very basics, the two-seater made famous by cult 1960s TV show, The Prisoner, can accelerate to 60mph in less than 5 seconds, and can embarrass any Ferrari or Porsche on the track.
Caterham Motorsport Vouchers can be exchanged for:
The Slalom: Takes the simple formula of powersliding and 'donutting' a Seven round a cone course against the clock - an emphasis on fun with underlying current of competition.
Drift School: Introduced last year, this tyre-smoking master class has proved massively popular. Get taught to master the dark art of controlled power sliding a performance car. For those more experienced there is now the option to try one of the advance days.
Circuit Experience: Perfectly suited for the novice. From the briefing to the one-to-one tuition, grins will be firmly fixed and the adrenalin will be pumping after spending the day on a famous race circuit in a car with more power-to-weight than a Ferrari.
Venues for Caterham Motorsport Club events include Brands Hatch, Cadwell Park, Castle Coombe, Elvington, Oulton Park and Silverstone.
With vouchers priced from £99 to £399 there is a gift to suit everybody's needs and can be purchased by visiting the online stores section of caterham.co.uk.