Winter smiles for Caterham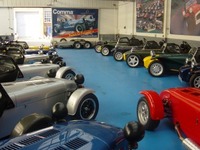 The days may be shorter, but the recent crisp mornings and blue skies have continued to drive demand for new and used examples of the evergreen Caterham Seven.
In keeping with Britain's position as the European home of the open-top (we buy more than Italy, Spain and France together), sales of used Sevens are up nearly 25 percent on last year.
The introduction of the critically acclaimed new Ford Sigma engine range this year – entry level 125bhp, 150bhp and the track day R400 weapon – have merely boosted nostalgic interest in the outgoing K Series powered models like the Superlight R300.
Stock is always moving, but a typical view of prices from both ends of the scale can see a really low mileage 1.4 105bhp Classic model for as little as £9,950 right the way up to a two-year old, range-topping CSR260 for £34,000.
"Interest in the new Ford Sigma engines and the R400 have certainly helped us freshen stock as owners buy new again," says Andy Noble of Caterham Cars. "Customers have a greater choice at this time of year as new car orders for spring delivery start coming through the door."
Caterham has sold over 12,000 examples of Colin Chapman's legendary lightweight sportscar since 1973, when it officially took over manufacturing and distribution rights. Many are still around today with some owners well into their twentieth year of ownership.
The oldest model currently in stock at Caterham is a 1993 built Roadsport 1.4. With a price tag of £12,000, the 128bhp two-seater confirms the rock solid residuals of the Seven.
The Caterham Seven is celebrating its 50th anniversary this year.
Contact Caterham South or Caterham Midlands for more information and book a test drive or visit caterham.co.uk to see an up-to-date stock list.