Caterham 2008 Calendar – A year in Seven months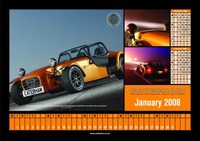 The stunning, limited edition Caterham 2008 calendar has just been released in time for Christmas; a definite must for fans of the supercar-slaying Seven.
The colour, glossy A3 calendar drives you through the year in a heady mixture of speed, adrenalin and beauty - capturing the very essence and excitement that this legendary two-seater encompasses.
Striking images of road-going Sevens, like the R400, CSR and Roadsport 125, lead overleaf to breathtaking, wheel-to-wheel racing shots from the various action-packed Caterham race series. Also featured are pictures that relive some of the excitement from the massive events celebrating 50 years of the Seven in 2007, like the Golden Jubilee at Donington Park.
But, like the Seven, you'll have to be quick; priced at £14.99, just 1000 of these calendars have been printed and are only available to buy through Caterham's website – caterham.co.uk.