Mini Countryman launches with Timbaland track "Getaway"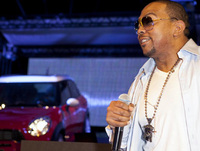 Last night, against the back-drop of the metropolis' skyline and in amongst the green fields of Mudchute Farm in London, celebrations for the launch of the new MINI Countryman culminated in world-exclusive performances by megastar producer, Timbaland and U.S. country singer Michelle Branch at the 'MINI Countryman Open Air' event. Their single 'Getaway' – which received its first-ever live outing in front of a 500-strong audience including Eva Herzigova, Cat Deeley, Margherita Missoni, Jade Parfitt, Poppy Delevigne, Donna Air, Henry Holland, Jasmine Guinness, Tyrone Woods, Ben Grimes, Jack Kidd, Ozwald Boateng and Hofit Golan - is set to be released this summer by Warner Music.
The collaboration between one of the world's most prolific artist/producers and aU.S. country singer songwriter merged the 'URBAN meets COUNTRY' themes associated with the new MINI Countryman. From on-site graffiti artists to VIP guests wandering around in wellies and Henry Holland "House of Holland" T-shirt-clad crew, the 'MINI Countryman Open Air' fully lived up to the brand's quirky spirit. Warm-up acts came in the form of 'folktronica' musician James Yuil and Hot Chip's Joe Goddard spinning the wheels for the lively crowd before George Lamb brought on-stage Michelle Branch for her showcase of stellar pop-tinged modern country. As well as the exclusive MINI Countryman song 'Getaway' making its world debut inLondon, the MINI Countryman also had a starring role in the world exclusive preview for the track's music video.
Closing the night's exciting mini festival, Timbaland rocked everyone outdoors with his best known tracks including "Sexy Back" and "Promiscuous Girl."
To watch the music video for the new 'Getaway' track, visit minispace.com/mini-countryman-events/ and for live footage of last night's 'MINI Countryman Open Air' event, visit youtube.com/mini.