Caterham Cars launches insurance service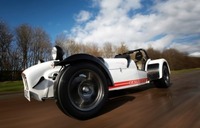 Caterham Cars has launched "Caterham Insurance" giving owners the most competitive and bespoke cover possible for a Seven.
By offering customers truly tailored insurance, the British manufacturer has fulfilled its desire to provide the complete ownership experience; adding to new and used car sales, servicing, customising, a successful tiered race programme and the massively popular Caterham Driving Experience (CDX) days.
Only Sevens qualify for Caterham Insurance. As a result, the policy has been designed to suite all the requirements that are inherent to the lifestyle of the owner, including track day cover* and modifications.
Caterham Sales & Marketing Director, Andy Noble, explains the move: 'For the thrill of driving and the joy of ownership, the Seven simply can't be compared to any other vehicle; this is why Caterham believe it can't be insured the same way. With our own insurance, customers are able to come to one of our showrooms and, whether it's a new or used car they're interested in, we can sort a complete deal under one roof.'
As an introductory offer, Caterham Insurance is offering four years no claims bonus to new customers.
Agreed values can be provided for cars over 10 years old and claims can be made 365 days of the year and all repair work is carried out at one of Caterham's three locations. All policies include free breakdown cover and there's no excess to pay on windscreen repair or replacement if the work is undertaken by Caterham.
For more information, visit caterham-insurance.com